Originally published on Mighty Moms on April 11th, 2023.
Think Blue Marble is a brand that manufactures STEM toys that are designed to encourage curiosity and creativity in children. They are ideal for introducing your children to the world of science, discovery, and exploration. The toys range from conducting everyday experiments to investigating fossils and crystals, making them ideal for instilling a love and understanding of science at an early age.
Think Blue Marble is popular for creating the most detailed and highest-quality STEM toys, and has even won several awards since 2011. If you want to learn more about the brand, you have come to the right place. This detailed review will provide all the information you will need to decide whether or not the toys manufactured by Think Blue Marble is ideal for you.
What is Think Blue Marble?
The purpose of Think Blue Marble is to manufacture products that instill a sense of drive and love for learning in children. Their toys are educational and they motivate children to become more thoughtful and confident in their abilities.
It is important to encourage critical thinking in children at an early age and Think Blue Marble toys are designed to do just that. Most toys have the ability to encourage curiosity in children and provide them with the necessary skills needed to implement their thinking process.
The founders of Think Blue Marble are Jordan and Katie Willing, who came up with the idea more than a decade ago. Ever since then, they have been inspiring children to pursue their love for science and discovery.
The name Blue Marble was inspired by the first high-resolution picture that NASA was able to take of the Earth back in 1972. It was named the Blue Marble shot, and it was revolutionary because it transformed the way humans viewed Earth. The image was so awe-inspiring for the founders that they decided to name their brand after it.
Ever since its inception, many parents have been quite satisfied with their toys, and most have become loyal customers. The quality and uniqueness provided by Think Blue Marble STEM toys are unmatched by competitors.
Think Blue Marble products are readily available in the market. You can purchase directly from the website or look for online retailers or physical shops that sell authentic STEM toys.
Ever since its inception, the brand has won more than 100 awards, which increases the confidence of parents. So, if you have young children, do not hesitate to invest in Think Blue Marble, because they are definitely worth the money and hype.
Our Review of Think Blue Marble
The number of products and toys manufactured by Think Blue Marble is endless. You will find almost every theme ranging from dinosaurs, volcanos, and rocks, to science, art, and rocket themes. We have shortlisted the best-selling products at Think Blue Marble, just for you.
National Geographic Mega Arts and Crafts Kit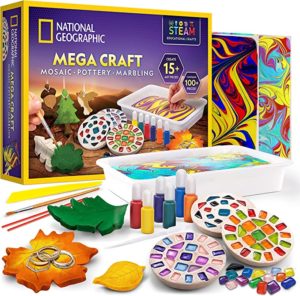 The National Geographic Mega Arts and Crafts Kit for Kids is an exciting and educational collection of crafts for kids of all ages to enjoy. With over 100 components and 19 unique pieces of art that can be created, this kit is sure to spark creativity in any young mind.
The three-in-one craft bundle includes a mosaic kit, marbling kit, and air-dry pottery kit. Kids can create unique designs or use the included mosaic templates as a guide. The paint marbling art kit includes everything kids need to make beautiful marbled paint designs, which can be transferred onto 12 included sheets for framing and displaying.
Finally, the air-dry pottery kit includes materials that can be used to make four nature-themed pottery pieces, such as ornaments and a ring dish. With paints and brushes included, kids can use their imagination to personalize their art projects.
This kit is an excellent way for children to express their creativity while learning about science, art, construction skills, and more. The high-quality educational toys used are perfect for sparking a creative interest in STEM subjects in a fun and interactive way.
National Geographic Kids Epic Fort Building Kit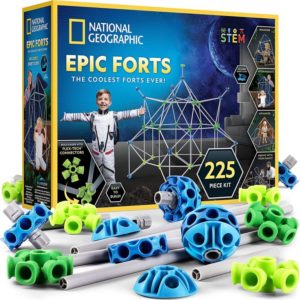 The National Geographic Kids Epic Fort Building Kit is an awesome way for kids to express their creativity and have outdoor-style fun indoors. With 225 pieces and a flexible design, this fort-building kit allows kids to create their own designs and build their very own forts.
The kit's special flex-tech hubs make it easy for kids to build whichever fort structure they can dream up. They will love the 12 included clips that hold the sheet or blanket of their choice in place over the top of the fort. Additionally, the building guide provides step-by-step instructions on how to build a pyramid or an airplane so kids can learn the basics of connecting pieces with confidence.
This kid's fort builder is made with durable and high-quality components that will stand up to repeated play over time. It is perfect for stimulating creative play and STEM learning, allowing kids to construct limitless configurations of play areas. Plus, it grows along with its young users, giving them the opportunity to challenge themselves further as they get older. This kit is sure to provide hours of entertainment as children come up with new and inventive designs.
National Geographic Earth Science Kit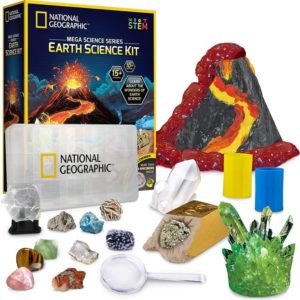 The National Geographic Earth Science Kit is an incredibly fun, engaging, and educational product for kids to explore their curiosity and uncover the secrets of the world around them. With over 15 science experiments and STEM activities, it is sure to spark a child's interest in science. The massive kit contains dual water tornadoes, an erupting volcano experiment, growing crystals, two geologic dig kits, and ten genuine specimens. This science lab is great for multiple children or even families as there are plenty of experiments to enjoy.
Each activity comes with easy-to-follow instructions so that young scientists can have confidence as they conduct experiments, focusing on the joy of exploration rather than on worries about completing the tasks correctly. As kids work through each project, the learning guide included teaches more about the science behind each experiment and helps develop a deeper appreciation for earth sciences.
This kit is an exciting way for curious kids to engage in hands-on learning that provides a greater understanding of the natural world around them.
National Geographic Dino Dig Kit & Dinosaur Book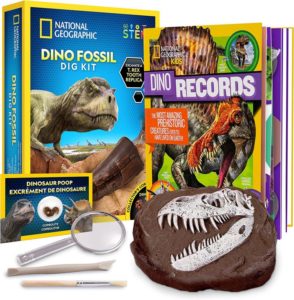 The National Geographic Dino Dig Kit & Dinosaur Book is the perfect gift for your aspiring paleontologist. Featuring a replica T. rex tooth fossil hidden inside a dig brick, this kit takes kids on an adventure to explore the world of dinosaurs. The full-color Dino Records book provides fascinating insights into the time when these legendary creatures ruled the Earth and are sure to spark an interest in paleontology.
The dig tools included in the kit are similar to those used by real paleontologists, giving kids a firsthand experience of how fossils are excavated in the field. They can dig out their own replica fossil like a professional explorer and learn about the history behind it. Kids will be captivated by the detailed Dino Records book, which includes record-setting dinosaurs, facts about fossil discoveries, and many more fun dinosaur facts.
This kit is constructed with the highest quality materials and is perfect for hands-on science exploration. It is an excellent way to encourage learning and develop an appreciation for scientific discovery. Kids will love uncovering the amazing fossils and learning all about these legendary creatures with this exciting kit.
National Geographic Rocks, Fossils & Minerals Kit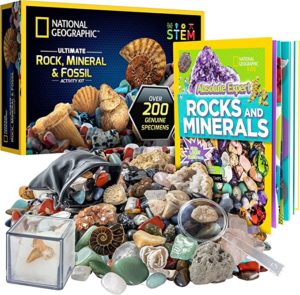 The National Geographic Rocks, Fossils & Minerals Kit is the ultimate choice for kids interested in exploring the wonders of Earth science. This 200-plus piece set comes with real fossils, rocks, gemstones, crystals, and much more as well as a stunning full-color hardcover book filled with fascinating facts and insights to help children become absolute experts.
Among the collection are rough and polished samples of Aventurine, Rose Quartz, Snowflake Obsidian, Desert Rose, Red Jasper, and Blue Quartz. The kit also comes with genuine fossils from prehistoric times such as shark teeth, gastropods, ammonites, clams, and brachiopods. A magnifying glass and identification sheet are also included to help your kids sort and identify each rock, gemstone, and fossil in their own collection.
Not only can kids explore the different pieces included in the kit, but they can also learn more about Earth science through the 100+ pages of incredible facts about rocks, minerals, and fossils found in the accompanying book, Absolute Expert. This in itself is enough to ignite a desire for knowledge in your youngsters and encourage them to continue learning about this fascinating topic.
National Geographic Science Magic Kit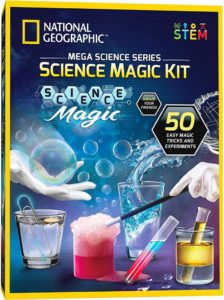 The National Geographic Science Magic Kit is an exciting and unique product for both parents and children alike. This kit gives kids the unique opportunity to learn science in the form of magic tricks. Through the included 20 experiments, boys and girls can experiment with liquid metal, create a disappearing test tube, make a coin float, and much more.
When performing these experiments, your child can fully dress the part with the included magic wand and white gloves. Even better, each experiment is designed to be performed as a magic trick so that your child can show off their newfound skills to friends and family.
Along with their newfound magic powers comes knowledge. The included experiment guide provides illustrated, kid-friendly instructions with insight into the science behind each experiment. This guide also includes techniques used by real scientists and plenty of fascinating facts that will give your child's learning experience a boost.
The Science Magic Kit doesn't stop there. In addition to the included experiments, there is also a bonus guide with 30 additional science experiments your kids can do with common household items. All of this is made possible by National Geographic's commitment to providing high-quality educational toys backed by exceptional service.
Think Blue Marble Reviews from Customers
When it comes to Think Blue Marble, the brand has been able to create a large number of educational toys in collaboration with National Geographic. The efforts put in by these brands have received a lot of appreciation, especially from parents of kids who have benefitted from their STEM toys.
Many parents have commented on how much fun they had in conducting different experiments with their kids. Some people said that the toy they purchased helped their children to bond with them more, and encouraged their thinking and critical skills.
Some people mentioned how great of a gift it was for their loved ones. A few grandparents purchased one for their grandchildren, while other individuals purchased one for their nieces and nephews. Thanks to the gift card provided by Think Blue Marble, these toys are ideal for special occasions like birthdays, Christmas, or other occasions.
One of the reviews mentioned that these toys are designed to spark the interest of children, which keeps them occupied. This means that their screen time is reduced and they are engaging themselves in useful and beneficial activities.
Some reviews mentioned how cost-effective these STEM toys are. Since they are constructed using high-quality materials that are safe for use by children, they will last a long time. This makes them worth the money as they provide value for the price paid.
Also, many customers were pleased by the amount of variety provided by Think Blue Marble and National Geographic. Their product list is almost endless, which means that you can find something for everyone. Whether your child likes fossils or is interested in space and astrology, these brands have got you covered.