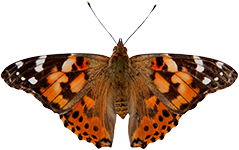 Thank you for your purchase, we know you're going to love your Butterfly Growing Kit! Click the link below to place your order for five live caterpillars! *
Your caterpillars will grow into adult Painted Lady butterflies, which typically live for 2 to 3 weeks. If you choose to release your butterflies, be sure to check with local regulations to ensure that it's safe to release butterflies in your area. Please note that Painted Lady butterflies cannot be released in CT, ND, or WA.
*You'll be charged a $10.95 shipping and handling fee. Caterpillars are only available in the contiguous United States. Cannot ship to Alaska, Hawaii, or Puerto Rico.